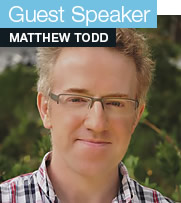 Matthew Todd was born in Manchester, England. He obtained his PhD in organic chemistry from Cambridge University in 1999, was a Wellcome Trust postdoc at The University of California, Berkeley, a college fellow at Cambridge University, a lecturer at Queen Mary University of London, and, since 2005, has been Associate Professor in the School of Chemistry at The University of Sydney.
Mat has a keen interest in open science and how it may be used to accelerate research, with particular emphasis on open source discovery of new medicines. He founded and currently leads the Open Source Malaria (OSM) and Open Source TB (OSTB) consortia, and is a founder of a broader Open Source Pharma movement.
In 2011, Mat was awarded a NSW Science & Engineering Award in the Emerging Research category for his work in open science, and, in 2012, the OSM consortium was awarded one of three Wellcome Trust/Google/PLoS Accelerating Science Awards. Mat is on the Editorial Boards of PLoS One, Chemistry Central Journal, Chemistry Open and Nature Scientific Reports.

Date

Wednesday
28 October 2015
Time
7.45am for coffee & breakfast.
Starting at 8am sharp.
Finishing no later than 9am.
Venue
NSW Trade & Investment Centre
Level 47, MLC Centre
19 Martin Place, SYDNEY
RSVP

By Friday 23 October 2015, limited seating available

Phone

02 9338 6787 or

email
science.research
@industry.nsw.gov.au
For more information, see www.chiefscientist.nsw.gov.au
The NSW Chief Scientist & Engineer,
Professor Mary O'Kane, invites you to join her for the
next instalment of the popular and informative
Science & Research Breakfast Seminar series:
The Science & Research Breakfast Seminar
on Wednesday 28 October 2015
Associate Professor Matthew Todd from School of Chemistry,
The University of Sydney, presents:
'Openness Boosts Research'
Matthew Todd works on making molecules, many of which have roles in treating disease. He is interested in how we can find new medicines more quickly and in a way that leads to those medicines being available cheaply.
A few years ago, Mat worked with the World Health Organisation to find a better way to make the medicine used to treat hundreds of millions of people suffering from the disease Bilharzia. The project was carried out "open source" – meaning that everything Mat's research group did was placed on the internet each day and anyone could get involved. This led to major involvement from the private sector and a rapid solution to the research problem. His non-patented work is being used to take the improved form of the drug to market.
Mat has since been working on discovering and developing medicines in the public domain – so-called Open Source Pharma. The Open Source Malaria consortium has received inputs from more than 100 people around the world. He is now attempting the same model with Open Source Tuberculosis.
Most recently, Mat was part of a team awarded a major grant to start the first Open Source Pharma (OSP) Foundation – to support any open source drug discovery project worldwide.
Could OSP be a new, inclusive global industry, competing with traditional pharma? To answer this question means we need to understand what openness is. What is open innovation, and what is open source? How does openness change the economics of research? Should universities be trying to secure intellectual property? Is secrecy throwing a spanner into the works of our innovation engine?
About the seminar series
The Science & Research breakfast seminar series aims to give executives in the business, law and finance sectors a better understanding of key science and research issues and their impact on business, the economy and the community.

The seminars provide unfiltered, informative material about key issues and open up the conversation between the business and professional communities and the experts at the heart of leading edge science and research.

The speakers appearing are the top experts of their research disciplines and outstanding communicators.